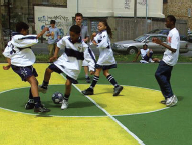 SportTop - Great for a MUGA
SportTop is an ideal outdoor sports surface especially for a MUGA (multi-use games area). SportTop is a continuous, resilient surface designed for use on almost any outdoor recreation areas. The high quality flooring system is a safe and cost effective durable flooring system, designed to meet Sport England MUGA Type 3 and 4 specifications.
The porous polymeric surface is suitable for a wide variety of activities and provides high-quality play combined with comfort, good grip, minimum risk of injuries and fast drainage after rain. Your Sport-Top MUGA will be ready for use even after rain.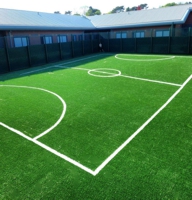 Artificial Grass
As an attractive alternative to natural grass our artificial turf cannot be beaten. Our artificial grass is great for a MUGA (multi-use games area) too.
Free draining - allows play all the year round
Soft and resilient - feels and looks good
8 year manufacturer's warranty
UV stable
Low maintenance
Our artifical grass is ideal for a Sport England MUGA. A type 5 specification MUGA is also known as an Artificial or Synthetic Turf Pitch (ATP or STP for short) used in conjunction with a shockpad. A MUGA can be used for combinations of sports such as hockey, five-a-side football, football, and training areas.