Professional installation by experienced operatives
Durable permanent line-marking
Installation schedule to suit your timetable
Continuous polymeric material can easily be retextured or repaired
Artificial grass installed with or without shockpads
Installation - SportTop
SportTop can be installed onto most existing macadam games areas in reasonably sound condition.
Installation - Artificial Grass
Artificial grass can be installed over suitably prepared bases. Examples are given below. Durable and practically invisible seams are made with special weatherproof adhesive applied to a carrier strip.
Coloured lines can be incorporated at manufacture and when the surface is installed.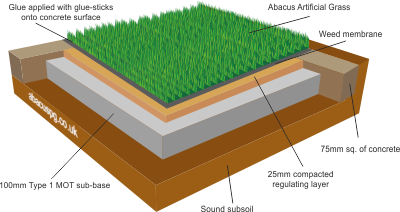 Cross-section of a typical artificial grass installation.
Shockpads can be incorporated to ensure that the finished surface complies with player/surface interaction and ball bounce requirements.
We can also undertake turnkey 'design and build' contracts if required. These start with planning the layout of the site.
As well as installing the playing surface, we can also supply rebound, ball-stop or security fencing, together with kerbs, gates and playing equipment such as goals, posts and nets.
New range of artificial grass launched. The range includes 3G and sand-filled types providing excellent surfaces for football, rugby and multi-sport pitches. The range of synthetic grasses comes with lighting, fencing and equipment options.
SportTop hits Dulwich! A SportTop pitch has been installed at Alleyns School in Dulwich, London. The 700sqm court was completed in May this year and is providing an outdoor netball facility for the school. The durable MUGA surface has been installed to meet the demands of both inter house and inter school matches.